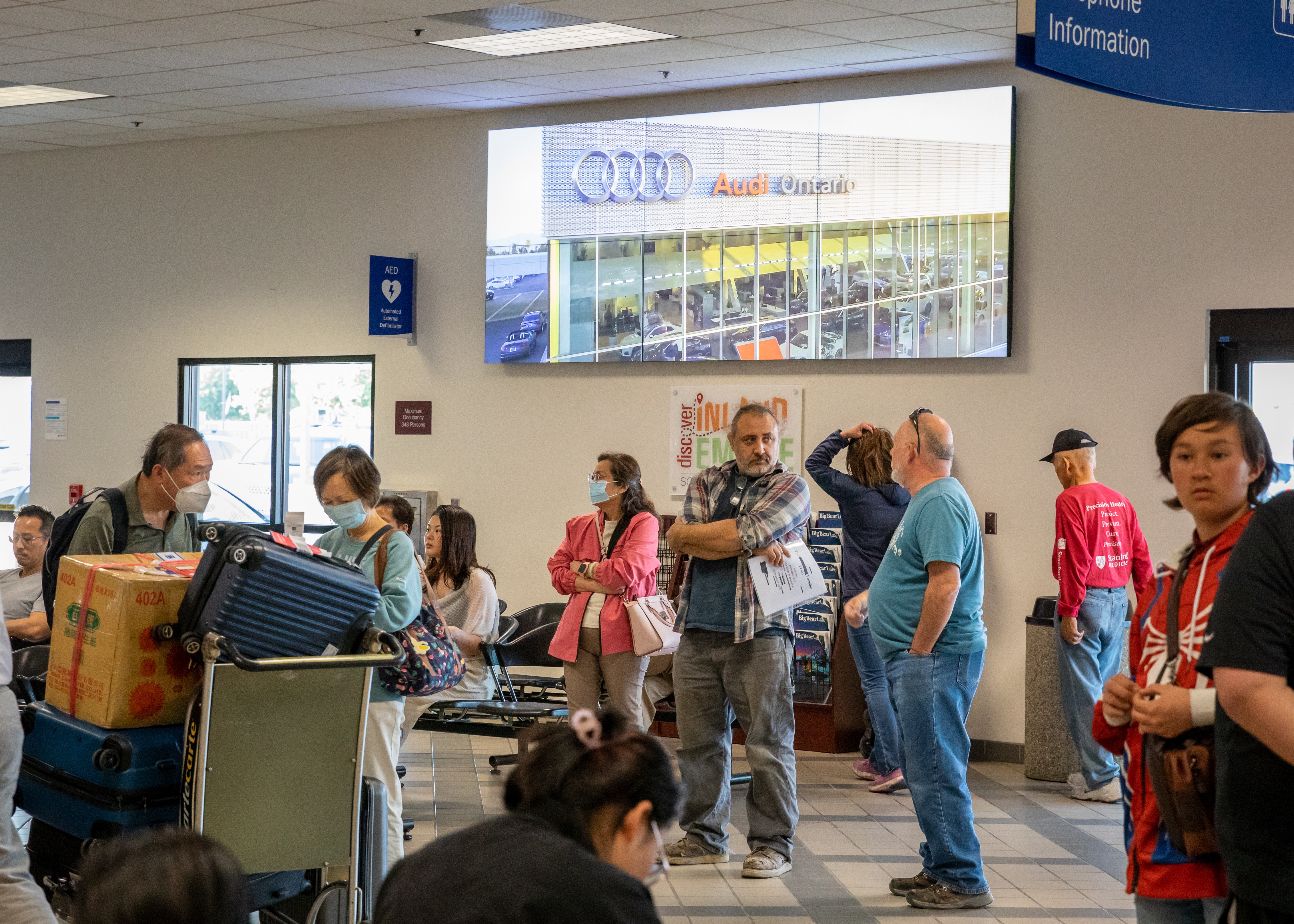 Ontario International Airport to be busy during summer travel season
Posted on: Mon, 05/22/2023 - 05:00
Southern California gateway has new domestic and international services, Chick-fil-A just in time for summer
(Ontario, California – May 22, 2023) – Airline passengers planning travel through Ontario International Airport (ONT) will see busier terminals this summer, yet officials offered assurance that they can expect the same premium, hassle-free customer experience that has become the hallmark of the Southern California gateway.
Based on current airline schedules, more than 1.8 million passengers are expected to move through ONT between Friday, May 26, and Monday September 4, a 7% increase over last summer and nearly 13% more than the same period during pre-pandemic 2019.
Summer 2023

Estimated

Passengers

Versus

2022

Estimated Seats

Versus 2022

Totals

1,836,367

+7.1%

2,366,452

+9.1%
Ontario passengers have the added benefit of new and increased air service to popular domestic and international destinations this summer, compared to summer 2022, including:
Atlanta –

New daily service with Frontier Airlines that is in addition to three daily departures on Delta Air Lines.

Dallas-Fort Worth –

7 daily departures, up from 5 daily last year, with 6 offered by American Airlines and 1 by Frontier Airlines.

Dallas/Love Field – Daily

service via Southwest Airlines, up from once weekly last summer.

San Francisco – Daily

service with Frontier Airlines that is in addition to three daily departures on United Airlines

Seattle – 4

daily departures on Alaska Airlines, up from 3 daily last summer, that is in addition to three daily departures on Delta Air Lines.

Guadalajara – Expanded service with l

arger A321 aircraft on most Volaris departures, offering 50 additional seats per flight

Taipei –

Fully restored daily service offered by China Airlines, compared to once-weekly service last summer.
Airlines are offering more than 2.3 million seats from Memorial Day weekend through Labor Day, with nearly 78% expected to be filled. The number of seats available this summer is 9% higher compared with summer a year ago. Airline schedules for July show 502 departures per week at ONT, 11 more than July last year.
"Airports often determine if passengers have positive travel experiences, whether for business or leisure, so we are pulling out the stops to set a positive tone this summer," said Atif Elkadi, chief executive officer of the Ontario International Airport Authority. "Our airport is exceeding pre-pandemic passenger volume, and despite higher air fares, summer travel demand is strong. Our guests deserve an enjoyable airport experience and that's what we will continue to deliver with added air services, exciting dining options and facilities that are second to none."
Airport officials recommend travelers arrive at ONT two hours prior to departure time for domestic flights and three hours prior for international flights.
Officials also noted a new Chick-fil-A restaurant in Terminal 4 is open to passengers, visitors and airport employees before the Memorial Day weekend, adding to the array of services and amenities available to ONT customers that add to the positive airport experience:
ONT+ Visitor Program

which enables non-travelers to access post-security airport spaces to spend more time with family and friends or enjoy dining and retail concessions.

Delicious food and beverage options provided by Tap & Pour, Einstein Bros. Bagels, Urban Crave, Dunkin, Pizza Vino Liquid Provisions and Subway.

Access to

Aspire Lounges

located in each passenger terminal.

Duty-free shopping for international departing customers at the new

3Sixty

store in Terminal 2;

Close-to-terminal parking which can be easily reserved in advance

here

.

Commercial-free AiRadio which broadcasts the latest ONT information 24/7 at 620AM and streaming

here

.
# # #
About Ontario International Airport
Ontario International Airport (ONT) is the fastest growing airport in the United States, according to Global Traveler, a leading publication for frequent fliers. Located in the Inland Empire, ONT is approximately 35 miles east of downtown Los Angeles in the center of Southern California. It is a full-service airport which offers nonstop commercial jet service to nearly two dozen major airports in the U.S., Mexico, Central America and Taiwan. More information is available at www.flyOntario.com. Follow @flyONT on Facebook, Twitter, and Instagram
About the Ontario International Airport Authority (OIAA)
The OIAA was formed in August 2012 by a Joint Powers Agreement between the City of Ontario and the County of San Bernardino to provide overall direction for the management, operations, development and marketing of ONT for the benefit of the Southern California economy and the residents of the airport's four-county catchment area. OIAA Commissioners are Ontario City Councilmember Alan D. Wapner (President), Retired Riverside Mayor Ronald O. Loveridge (Vice President), Ontario City Council Member Jim W. Bowman (Secretary), San Bernardino County Supervisor Curt Hagman (Commissioner) and retired business executive Julia Gouw (Commissioner).